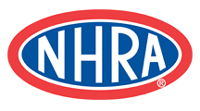 From NHRARacer.com
:
Hard cards are available for Sportsman and Pro Mod National Event competitors for the 2017 season. The hard card will take the place of your paper credential and will act as a Restricted Area Pass.
The hard card will be printed with a barcode and will only be active for the National Event you are registered for. The amount of hard cards made available will be based on a competitor's paid entry or Gold, Silver, Bronze card status. The table below is a breakdown of available hard cards by category.
To apply for a hard card please email NHRA sportsmanhardcard@nhra.com and provide your name, membership number, car number and mailing address. A hard card application and waiver will be mailed to you. Detailed instructions have been provided on the application on how to apply. If you have any questions please feel free to contact the NHRA Competition Department at 626-250-2271. Hard cards will not be mailed and only made available for pickup at the NHRA VIP Credential trailer.