American DRAGCAR celebrated the completion of five full drag racing seasons at southern Arizona's Tucson Dragway during the December 3rd & 4th weekend Pentennial Season Celebration Event and if you missed it, this event offered up a guaranteed $5,000.00 winner's payout to Sunday's level 5 ($100) DragSport Eliminator entrants and the possibility of there becoming two separate $5,000.00 winner's pays with one being a quick 16 Top DragSport Eliminator field if the total DragSport entry list reached 200 or more entries. This event also offered a different kind of bracket event for Saturday which incorporated DRAGCAR's own race fee/payout structure option with two Pro light brackets and a full tree bracket. And there were also races for the Junior Dragster racers as well as a Lady DRAGCAR race and a DRAGCAR Shootout between American DRAGCAR's Central and Southern Series' top points finishers. StreetCar Showdown was on the list for both days but with a competing street car event in Phoenix and an "illegal" happening somewhere else on this same weekend, the Showdown was not able to be run.
One of the non-racing highlights of the weekend was the special appearance of Jeff Senour and the CTS band who came down from Phoenix to provide the musical entertainment for the Saturday evening festivities including an outstanding performance of their original drag racing favorite, "Quarter Mile" which everybody thoroughly enjoyed. Thanks to them for making the trip down!

Saturday December 3rd, 2016

Saturday saw some exciting breakout racing action with a 4 tenths Pro light bracket, a 5 tenths Pro light bracket, and a full tree bracket proving that electronics and non-electronics can indeed be run together when using the Pro light tree.
The Pro 400 BreakOut saw approximately a 2:1 ratio of box vs. no-entries but in the end it wasn't the box that eliminated the no-box racers in the field as they were going out with red-lights, breakouts, and off-dial performances. Not one no-box racer was defeated by a decisive reaction time advantage taken by a box car which lends creed to the theory that the Pro light serves well to equalize the field. In the end though, it did end up a final between two delay boxed racers as Ron Shelly in his Vega on a 9.65 dial took the go signal almost 2 seconds before Jose Luis Garcia in his dragster on a 7.82 dial. Garcia took a big reaction time advantage from the green but at the end he was too far in front as he stopped the clocks 6 thousandths of a second early for the breakout giving Shelly the win, 9.684 over a 7.814.
In the Pro 500 Breakout, there were only a couple of box cars entered and they went out early, one by attrition and one by the red light. So, the final ended up a no-box battle between Matt Ballard in his Vega on a 10.47 dial-in and James Sorenson in his Nova on an 11.10 dial. After the ambers flashed, both racers showed very respectable reaction times but Ballard still had a couple hundredths advantage with his .016 light and though Sorenson hit the finish line first by 4 thousandths of a second, it was Ballard turning on the win light with the lesser of the breakouts in the double breakout battle, 10.465 over an 11.081.
Then there was the Full Five BreakOut strictly for non-electronics racers where Kyle Holbrook in the Underdog Racing Fox body running on a 12.76 dial-in lined up against Dustin Passerby in his deadly consistent Malibu on a 12.29 dial for the final round showdown. Once both trees had fallen, it was Holbrook holding more than 7 hundredths advantage with his double O-2 light and Passerby was unable to take this one as he was still behind at the stripe allowing Holbrook to take the win by 3 hundredths with a 12.794 over the 12.286 breakout effort.
Finally, the Junior BreakOut Final proved to be one of those strange ones where both drivers were playing with the throttle and running well off their numbers as they crossed the stripe. Tripp Breikreitz took the tree first on his 8.90 dial-in while Dylan Smith waited and gave chase a half second later on his 8.25 dial. Smith took with him a 5 hundredths advantage off the line and at the finish line he was able to secure the deal with an 8.465 over the off dial 9.235 effort.
The Central vs. Southern DRAGCAR Shootout (shown below: Chris Holbrook / Mustang and Marvin Wolfmeier / Vega) was a special competition being held for "bragging rights" among the top finishing members of the Season V Arizona Differential Specialists Central Championship Series and the Micro Import Service Inc. Southern Championship Series. This was to be a two round shootout between two teams of eight racers being scored just the same as the season series' are scored with the winning team being decided by the total team points score. In the end it was Tucson's Team Southern coming away the victors with the bragging rights to Arizona's Best in the West drag racers.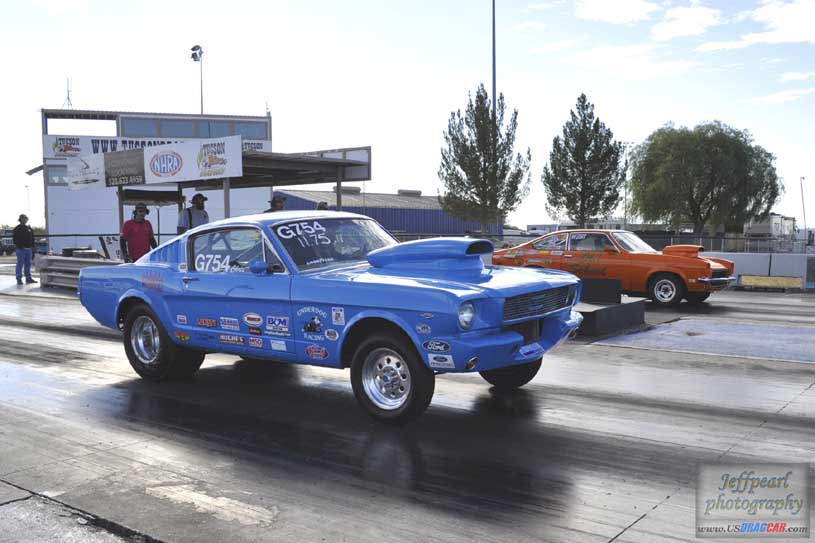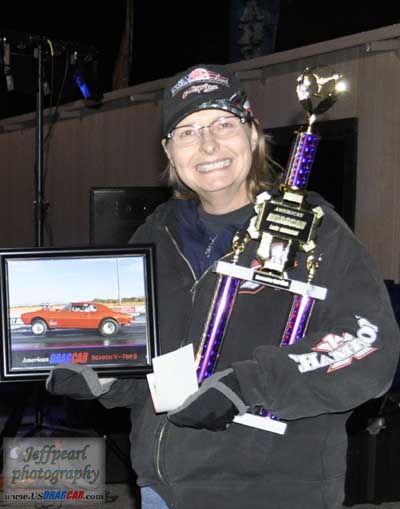 In Lady DRAGCAR, it came down to yet another Ballard/Wray battle as Geanine Ballard (pictured) faced off with Neva Wray in a quite familiarly seen DRAGCAR pairing. The ladies being who they are, thought that they decided this would not be a race for anything other than just an exhibition, but little did they know that American DRAGCAR and DRAGCAR member Michael Porter would not have any of that as Porter had already put up a $100 to go to the Lady DRAGCAR finalists in addition to the Winner's trophy. And after the lights fell for the final time of the day, Geanine Ballard was once again the Lady DRAGCAR winner for the second year in a row after Neva Wray drew the red light on the starting line.
And that was some of day one of the American DRAGCAR Pentennial Celebration racing action but there was still an evening to be had with Jeff Senour and the CTS band as they performed right there next to the Tucson Dragway beer well in a very intimate atmosphere playing directly to all of the racers who stayed for the night's entertainment which also included some DRAGCAR Season awards presentations.


Sunday December 4th, 2016

Sunday's main event was the 5K DragSport Eliminator which guaranteed $5,000.00 to win for only a $100.00 entry with four other race entry level options allowing racers to enter for as much as they felt comfortable with while still going for some good pay return with the lowest ($20) level still paying out a cool guaranteed $1,000.00.
But as the two hundred entry requirement for a quick 16 Top DragSport Eliminator field was not met, there was only to be one 5K winner's payout but there were still some fast hot rods in the lanes to make for another one of the fastest fields American DRAGCAR has yet seen. Number 1 on the qualifiers list was Jose Luis Garcia of Hermosillo, Mexico in his wicked 2014 big inch Camaro after ripping off a stout 7.623 at 181 mph charge. The #2 spot went to Tucson, Arizona's Gene Igo in his big inch Chevy powered rear engined dragster with a 7.790 at 171 mph while the #3 spot was nailed down by Jose Luis Garcia Jr. of Hermosillo, Mexico in his big Chevy powered rear engined dragster with a 7.815 at 172 mph. The #4 top spot went to Maricopa, Arizona's Chris DeVaney in his turbocharged small block powered '87 Mustang while Tucson, Arizona's Josie Vasquez rounded out the 5K Fast Five with her 8.917 at 147 mph in her big block Chevy powered rear engined dragster.
Some of the First Round highlights included the Season V Grand Championship DRAGSTAR Dustin Passerby taking a 9 hundredths win in his street trimmed Malibu over Patrick Marback in his hot looking Cougar, 12.225 on a 12.25 over 10.781 on a 10.75 index. Then there was the Season V Central Championship DRAGSTAR Chris Holbrook in his trusty Mustang fastback edging out Geanine Ballard in her blown Camaro by just 3 hundredths with an 11.633 on an 11.65 over a quicker 9.160 on a 9.20 effort. But Season V's Southern Championship DRAGSTAR Marvin Wolfmeier in his Old School Vega fell victim to the red light as he was going up against Gary Cope in the Fox body Mustang. In the closest race of the round, Neva Wray in her Nash overcame a one hundredth of a second hole-shot advantage by Paul Polito in his Fox body Mustang to take the stripe by just 16 thousandths of a second running 12.450 on her 12.50 over the strong 10.528 on a 10.55 effort. And Mike Gardner in his Falcon came away a round winner when Gene Igo drew the red in his dragster.
Second Round was the buy-back round and had some even tougher racing as some of the first round racers had been re-indexed after their under-index performances. Central DRAGSTAR Chris Holbrook continued on as he faced Paul Polito who drew the red light. Southern DRAGSTAR Marvin Wolfmeier went red again by just 2 thousandths of a second allowing Gary Cope to move up another round. Grand Championship DRAGSTAR Dustin Passerby edged out another 3 hundredths win over James Sorenson in the Nova running 12.231 on his 12.25 over an 11.072 on an 11.05 index. Neva Wray however took a disqualification as she ran a 12.308 on her 12.45 index in front of Mike O'Donnell's 10.189 on his 10.15 index so O'Donnell and his GTO were on to the next round. Mike Gardner nailed down a double O-2 light against Patrick Marback and backed it up with a nice 10.924 on a 10.90 to show he was here for the win. And the closest race of round 2 came when Howard Devore in his Nova used an O-1-5 light paired with a nice 10.796 on a 10.80 index to cross the stripe just 19 thousandths of a second ahead of Jose Luis Garcia's dragster running 7.590 on a 7.60 index.
Round 3 saw Chris Holbrook take another round win as he took out Mark Ballard in the Delray with a hole-shot and an 11.766 on an 11.65 over an off pace 9.258 on a 9.10 index. Dustin Passerby also put a hole-shot on Willie Wray in his wheels up Camaro to take the win with a 12.252 on a 12.25 over another off pace 10.234 on a 10.15 index effort. Mike Gardner got a gift when Robert Taylor exceeded his .015 barrier in his turbocharged Fox body Mustang running 9.733 on his re-adjusted 9.85 index ahead of Gardner's 10.941 on a 10.90 giving Gardner the pass into the next round. And the closest race of this round again saw Howard Devore go double O-7 against Gary Cope's .028 light to take the win by just 3 hundredths with a 10.851 on a 10.80 over a 10.563 on a 10.50 index.
Round 4 saw Geanine Ballard going up against Matt Ballard, and after falling behind by 4 hundredths off the tree, she still managed to drive around Matt's Vega with a 9.127 on a 9.15 to take the win by 3 hundredths over the slower 10.559 on a 10.50 effort. Then it was the Central Championship DRAGSTAR Chris Holbrook drawing the red light to end his quest as he went up against Scott Niles in his Dodge pick-up who posted an 11.036 on his 11.00 to show he was ready for the next round. Mike Gardner then put a hole-shot on Howard Devore and took the win with a nice 10.902 on a 10.90 over the slightly quicker 10.799 on a 10.80 index. And Dustin Passerby's luck was still with him as he drew the bye into the semi's and ran out a nice 12.270 on his 12.25 to make sure he was up to speed.
So the Semi Finals had Mike Gardner paired up against Scott Niles in a near heads-up match and Season IV Southern Championship DRAGSTAR Geanine Ballard going up against the new Season V Grand Championship DRAGSTAR Dustin Passerby. In the first pairing, Niles' tree came down a tenth of a second before Gradner's but the two actually left the line much closer together than that as Gardner took a big reaction time advantage and at the finish line Niles had nothing for him as the Ford took the stripe by over a tenth of a second running 10.928 on a 10.90 over a strong 11.014 on an 11.00 effort. Then Passerby performed quite nearly the exact same job on Ballard as he took a big reaction time advantage off the tree and held on for the win running 12.248 on his 12.25 over the 9.163 on a 9.15 effort.
So the Final Round was set with this season's statewide champion, Dustin Passerby taking on Tucson's own Mike Gardner. Many looked on to see if the box car would finally take out the no-box car but once the trees had fallen and both were on their way, it was Passerby again holding a decisive reaction time advantage over Gardner, and Gardner was unable to make up the ground as Passerby took the stripe nearly 3 cars ahead running 12.252 on his 12.25 over the quicker 10.876 on a 10.90 charge.
Being a level 5 $100 entrant, Dusting Passerby became the biggest winner American DRAGCAR has had to date with his win of this first $5,000.00 race. Add to that his Season V Bonus' presented to him on Saturday evening plus his Full Five Breakout Runner-Up finish and he went away from the weekend with nearly $7,000.00 in winnings. Wow, Congratulations Dustin!
The Junior DragSport Eliminator saw only two racers present on Sunday but both were able to qualify and duke it out in a best of three match race format just as we do for the big cars. Dylan Smith who had won the Jr. DragOut Bracket the day before qualified with an 8.173 @ 79.08mph while Cody Nelson qualified with an 8.401 @ 78.85 mph. Due to NHRA's dial-in stipulation the American DRAGCAR adjusted indexing program adds 3 tenths of a second "padding" to the racers' indexes which then put Smith on an 8.45 adjusted index while Nelson was set on an 8.70. With this adjustment, both racers are allowed to run 3 tenths under their shown adjusted indexes and face disqualification at 4 tenths under-index.
So, in Round 1 of the match, Cody Nelson took a 2 hundredths reaction time advantage off the tree and then stretched out his lead to 7 hundredths of a second as he took the stripe first with an 8.367 @ 79.79 mph over the 8.167 @ 78.73 mph effort. Nelson's 8.367 was more than .320 under his 8.70 adjusted index so this would cost him a 5 hundredths penalty on his index going into round two.
So, coming to line for Round 2 of the match, Cody Nelson was now on an 8.65 adjusted index while Dylan Smith stayed on an 8.45. When the tree fell this time, Nelson again had the edge as he held a slight 13 thousandths reaction time advantage over Smith, and at the finish line it was Cody Nelson again taking the stripe by 7 hundredths of a second ahead of Dylan Smith with an 8.417 @ 79.14 mph over the slowing 8.279 @ 77.56 mph effort.
Once the racing was done, and both Junior teams had a better understanding of how American DRAGCAR's no-breakout DragSport Eliminator format works, it seemed that the racers both really liked this no-breakout format. In fact, during his trophy and payout collection, Cody Nelson exclaimed, "I like this kind of racing way better!" Well, I should imagine so since he won it, but we bet many more Junior racers will really like it just as much once they get a feel for it.
The Double Down DragOut Gambler came down to a battle between two of the Fast Five qualifiers as Jose Luis Garcia Jr. rolled up to the line on a 7.80 dial-in against Chris DeVaney dialed-in at 8.50. DeVaney took a 4 hundredths reaction time advantage and then was able to hold on for the win running 8.527 over the slightly quicker 7.813 charge.
This event had incredible rewards paid out as all in all totaled, including Season V Bonus' plus all of the category payouts, more than $13,000.00 was awarded over this weekend making this American DRAGCAR's biggest paying event ever in its five short seasons, and hopefully it just keeps getting bigger.
---
Results - American DRAGCAR $5K DragSport Eliminator , Tucson Dragway / December 4, 2016
Quarter Finals:
Winner: Geanine Ballard, Tucson, AZ., '67 Camaro, Index: 9.15, RT: .093, ET: 9.127
Runner-up: Matt Ballard, Tucson, AZ., '72 Vega, Index: 10.50, RT: .048, ET: 10.559
Winner: Scott Niles, Vail,AZ., '74 D100, Index: 11.00, RT: .093, ET: 11.036
Runner-up: Chris Holbrook, Chandler, AZ., '66 Mustang, Index: 11.65, RT: -.033, ET: 11.724
Winner: Mike Gardner, Tucson, AZ., '67 Falcon, Index: 10.90, RT: .013, ET: 10.902
Runner-up: Howard Devore, Flagstaff, AZ., '69 Nova, Index: 10.80, RT: .109, ET: 10.799
Winner: Dustin Passerby, San Tan Valley, AZ., '79 Malibu, Index: 12.25, RT:.035, ET: 12.272
Runner-up: Bye