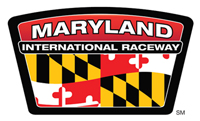 Mechanicsville, Maryland – Fans were greeted with postcard weather and record setting performances all weekend long at the 8th Annual Haltech Door Wars presented by Winegardner Auto Group at Maryland International Raceway™ (MDIR).
Pro mod racer Bill Lutz of Canal Winchester, Ohio would serve notice first in his turbocharged Camaro laying down a MDIR track speed record in the class at 262.95 mph early on Friday during qualifying. In X275, Rich Bruder of Edison, New Jersey once again used the famed MDIR track prep to his advantage as he re-established the national class ET record at 4.379 with his sharp blue '88 Mustang. X275 was not the only class to establish a new national record over the weekend. Limited Drag Radial also joined the ranks as Don Burton of Glen Allen, Maryland did the same with his '80 Mustang laying down a 4.146 ET set during qualifying on Saturday. They say that three is a charm and during this weekend, a third national record would be established in Outlaw 10.5 as Mike Decker, Jr. of Baltimore, Maryland would lay down an ear-splitting 3.955 ET with his supercharged Camaro. What these racers also shared in common over the weekend; none of them would go on to win their respective class, a testimony to the quality of the cars on the property for the event.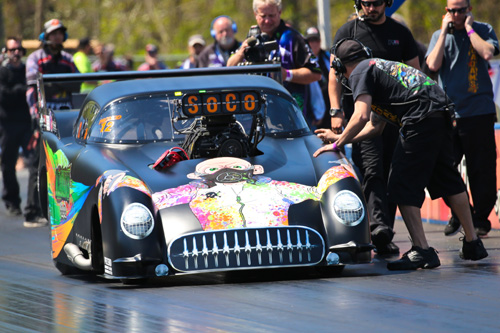 With over $60,000 in prize money up for grabs, bountiful sunshine and temperatures in the high 60's, as well as low winds and low humidity, race teams took advantage of the elements and the results continued to bring fans to their feet all weekend long. Beyond track and national records re-established at the event, eliminations proved to be equally as exciting.
Over 24 pro mod cars invaded the Budds Creek property to lay claim on the season opening Northeast Outlaw Pro Mod Association (NEOPMA) 2016 points event. Harwood, Maryland resident Mac McAdams used a consistent performance weekend to eventually top the 16-car qualified field in his supercharged '53 Corvette to claim his first ever class win. McAdams would take out Tyler Hard of Harrisburg, Pennsylvania's nitrous Camaro in round one followed by Bill Lutz in round two, Dave Norris of Sarver, Pennsylvania in the semi-final round and 2015 NEOPMA points champion; Kevin McCurdy of Harrisburg, Pennsylvania in the finals.
"Winning this weekend has really been a long last few years of hard work and dedication by my entire team," said Mac McAdams. "We have gone through a lot of trials and a huge learning curve right up to all the issues we had to overcome to go to each round! Huge thanks to my wife and daughter along with Brandon Booher (crew chief) Leroy Dudney (engine builder) and my crew Derek Wisooker and Will Rush! Absolutely couldn't be possible without these people backing me up! Big thanks to Steve King and Jeff Miller for all their help and parts they provided to get us to the line every round! NEOPMA is bar none the best series to be a part of and I thank John Mazzoranna for that," McAdams continued.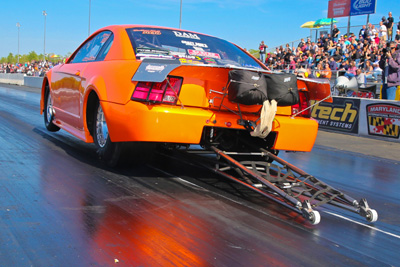 Outlaw 10.5 proved to be equally as interesting with nine quality cars beginning eliminations. Mike Decker, Jr. would use more near-record setting performance in the first and second round eliminations to make his way to the final. John Carinci of Woodbridge, Ontario Canada with his '04 turbocharged Corvette would beat Anthony Disomma of South Plainfield, New Jersey in round one, using a 4.048 ET to take out Mo Hall of Olney, Maryland in round two, and taking advantage of a bye-round in the semi-final to square off with Decker, Jr. in the finals. Carinci would take the trophy and oversized winner's check back home to Canada as he used a .098 reaction time and a 4.048 ET to take out Decker Jr. who ran a 3.971ET.
Radial vs. the World made a historic first visit to MDIR for the Door Wars event. Barry Mitchell of Hamptonville, North Carolina would be the surprise class winner taking out Fletcher Cox's '90 Mustang with Shawn Ayers from Corinth, Mississippi behind with wheel in the final with this '02 Camaro. Ayers did establish a first-time track record with a pass of 194.94 mph in the first round of eliminations as he took out "The" Kevin Mullins of High Point, North Carolina. Mullins established the track ET mark at 3.996 during Saturday's qualifying rounds.
Ron Rhodes of Townsend, Delaware became a back-to-back Door Wars X275 winner on this weekend. The 2015 MDIR class track champion continued his 2016 domination as he took out new national ET record holder Rich Bruder in the class finals in his shiny red nitrous infused '68 Camaro. Rhodes beat Jason Eberle of Chalfont, Pennsylvania in round one, Dean Marinis of Whitestone, New York in the semis before meeting up with Bruder in the final. Rhodes will look for an event "three-peat" in '17.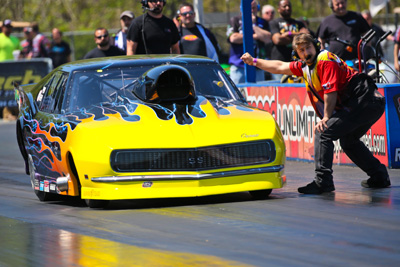 In a fun story line, the Rhodes added another winner trophy to the family inventory over the weekend as Ronny Rhodes claimed a class win with his '68 Camaro in Ultra Street as well. Rhodes used a .068 light and a 4.920 ET effort to top John Albrecht Jr. and his '85 Monte Carlo in the finals. It was all smiles in the winner circle on this day for the Rhodes family.
Limited Drag Radial made its maiden voyage to MDIR for the Haltech Door Wars presented by Winegardner Auto Group. While it was a different event and 1/8 mile vs. 1/4 mile, Steve Drummond would take his '69 Laurel, Delaware based Camaro to the winner's circle in two consecutive competitions at MDIR when he beat Don Burton of Glen Allen, Maryland in the finals. In his last trip to MDIR, Drummond won the Radial vs. Modified class at the epic World Cup Finals event last November.
The Nitrous X class made its first visit to MDIR as well thanks to Mr. John Sears. This class provides fans with exciting wheels up, close competition and shows promise of great things to come moving forward. Shawn Pevlor of Cincinnati, Ohio with his '93 Mustang would edge Tim Knieriem's of Shepherdsville, Kentucky's '95 Mustang with a 4.727 ET over Knieriem's 4.781 ET effort.
In Index competition, Louis Schalow of Chesterfield, Virginia claimed the 8.50 weekend title, MDIR track regular Pat Estevez of White Plains, Maryland took a win in 10.00, and Keith Mayers of Middletown, Delaware did the same in 11.50.
"The 2016 Door Wars event was a success and MDIR looks forward to continuing the growth of the event and further it on the national landscape," said Rick Lindner, Director of Marketing and Public Relations at Maryland International Raceway. "I would like to personally thank all the great first- time sponsors of the event this year as well as the racers and fans. Bigger things are yet to come for this spring-time classic," Lindner continued.

For more event information, please visit www.RaceMDIR.com.