At 3 races into American DRAGCAR's five race Arizona Race Company Street Car Showdown Series with the completion of the March 19th Chandler, Arizona's Race at Wild Horse Pass Motorsports Park, this last race had yet the largest total number of Streetcar showdown entrants to date in this first full season..
For the second race in a row there was a Pro OutLaw field though it was quite small; nevertheless one racer was here all the way from Wisconsin? Wow, what a tow! And for the second race in a row, it was the under-dogged Rob Parsons coming away the Pro OutLaw winner in his Ford Lightning.
Scottsdale, Arizona's Glen Bolz again had the fastest car in the field with a 4.652 @ 153mph out of his immaculate '66 Nova which gave him the bye for the semi-final round while Campbellsport, Wisconsin's Nick Mueller in his impressive '55 Chevy was taking on Scottsdale's Rob Parsons. Mueller had the definite performance advantage with his 5.054 @ 140mph qualifying effort but alas, almost as soon as he was staged, he leaped off of the starting line before the greens ever flashed giving Rob Parsons the pass into the finals.
So it would have been Rob Parsons and Glen Bolz meeting in the Pro OutLaw final but Bolz opted not to make the round thereby sending Parsons away as the Pro OutLaw race winner for his second race win in a row.
This time we also had a Pro BantamWeight field that had Lake Havasu City's Don Bonahoom again sitting at #1 with a 5.027 @ 149mph out of his Fox body Mustang while Justin Robbins was able to secure the #2 spot with his 5.888 @ 115mph effort from his Fairmont. Queen Creek's Preston Osborne in his Vega and Peoria, Arizona's Travis Wallace in the "new" Mustang secured the 3rd and 4th spots respectively as they both struggled with traction early in the day.
The Pro BantamWeight semi-final round started out with Preston Osborne in his little red corv. . . . ., no Vega, taking on Don Bonahoom in his Fox body Mustang. Osborne did his job trying to capture the Wallace Motorsports Quick Draw award as he .499'd Bonahoom's .525 reaction time but he just didn't have enough to hold off the turbo charge as Bonahoom took the stripe with a 5.926 over a 6.538 effort. Then it was Justin Robbins in his Fairmont taking on Travis Wallace in his super clean Mustang. But Robbins was unable to pull off the underdog upset this time as he left a little later than Wallace and could not make up the ground, running 6.927 to Wallace's 5.403 winning performance.
So, the Pro BantamWeight final had the two blue Mustangs of the field facing off. Bonahoom was certainly the favorite with more than a half second advantage showing on paper but can you ever really go by that? When the greens lit and the cars left the line, it was anybody's race as Bonahoom only netted a 2 thousandths reaction time lead, but by the 60' mark, it was the Wallace entry out in front. And by half track Wallace was ahead by about a half a car, and Bonahoom never made up that ground as they went across the line with Wallace in the lead by 5 hundredths running 5.153 over a 5.211 effort making Travis Wallace the Pro BantamWeight race winner for his second race in a row.
Now for the big show, Pro WelterWeight. Yep, that's right, the middle class is turning out to be the big draw as it's regularly the largest field of the program with performances matching those so far being seen in the Pro OutLaw class.
As qualifying closed, Josh Edwards again in the "Seabiscuit" 2nd generation Camaro taking the top spot with his untouchable 4.679 @ 161mph blast while Clay Forrester in his "Black Fox" body Mustang coupe took the #2 spot just about a quarter of a second behind with a 4.922 @ 149mph. Number 3 was held by points leader John Thompson in his "Blue Fox" body Mustang coupe with a 4.944 @ 148mph while Jeff Bomyea was back with his "Dredly" '67 Camaro posting a 4.987 @ 141mph for the #4 spot. Doug Driggers in "The Truck" had to settle for #5 with his 4.999 @ 142mph and Dave Welker's V6 "Flyerbird" Firebird took up 6th with a 5.15 @ 140mph. Dee Pfinster's "Wild" '69 Camaro sat in 7th with a 5.31 @ 135mph while Tony Williams in his "Lowdown" '56 Chevy rounded out the 8-car field with a 6.27 @ 124 mph effort. This has been the tightest Pro WelterWeight field to date with so many cars hovering in the 4.90 zone.
First up for first round was Doug Driggers drawing the hard to beat Josh Edwards, but when the green lights flashed, something seemed to be off in the truck as Driggers put nearly a 3 hundredths hole-shot on Edwards but still fell behind before the 60' mark and then lit the tires shortly afterward before finally lifting completely and allowing Edwards the honor of going to the next round with his 4.815 over 7.569. Next up was John Thompson taking on Dee Pfinster. Thompson was just "on" as he netted nearly 3 hundredths right off the light and never looked back, running 5.012 over a 5.479 for the round win. Then it was Clay Forrester paired up against Dave Welker, but Welker failed to make the call to the lanes thereby giving Forrester an easy single into the next round. Did I say easy? Well, his 4.924 @ 149 showed he may have been having a contest with Edwards to see who was more consistent anyway. Finally, Jeff Bomyea was paired with Tony Williams, and Williams also failed to make the call to the lanes allowing Bomyea a single into the next round as well posting a 5.564.
So, the semis would look to consist of one really tight pairing and one not so tight pairing as the #4 Jeff Bomyea was going up against the #2 Clay Forrester with only 6 hundredths of a second separating the two in their qualifying performances. When the greens flashed, it was Bomyea scoring more than 2 hundredths in reaction time advantage but as they charged down track, Forrester caught and passed the red Camaro at half track and charged on for the win with a 4.904 over a 5.054. Then it was John Thompson with the fate of facing Josh Edwards in the field dominating "Seabiscuit", and knowing he had his work cut out for him, he did rise to the challenge as he hit the light with a better than average .467 reaction and paired that up with a stout 4.93 performance, but Edwards was not taking his performance advantage for granted as he ripped out a .452 reaction time of his own and followed through with a 4.796 for the earned trip into the finals.
Clay Forrester was certainly the underdog going into the final as Josh Edwards just seemed to be repeating dominating runs with ease, but "never give up" seems to be the Forrester way of thinking. And "wow" is all you can say when after the green lights popped, Forrester was already a few hundredths behind Edwards in reaction time but in the first half of the track he actually closed in on the Camaro. But from the 330' on, Edwards pulled further away and went across the stripe in front for the win with a 4.812 over an impressive 4.879 effort for the Pro WelterWeight race win.
This race dominating performance by Josh Edwards brings him now to within 24 points (less than 1 round) behind series leader John Thompson so it will be interesting to see if anybody can stop his charge in the final two races of the season later this year.
Congratulations to Rob Parsons, Travis Wallace, and Josh Edwards on their class wins, and THANK YOU to all you racers who came out to show the folks at RPM Magazine a sampling of Arizona's toughest outlaw racers. Thanks also to Wild Horse Pass, and Chuck Sundstrum and the crew for providing some outstanding track prep allowing for so many sub-5 second performances throughout the entire day.
The next race on the Arizona Race Company StreetCar Showdown calendar is Race #4 in Chandler, Arizona on September 10th along with Race #4 of the Arizona Differential Specialists Central Championship Series.
---
Results - American DRAGCAR Street Car Showdown, Wild Horse Pass in Chandler, AZ / March 19, 2016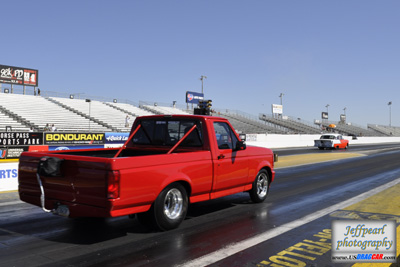 Pro OutLaw
Semi Finals:
Winner: Rob Parsons, Scottsdale, AZ., Ford Lightening, RT: .489, ET: 6.881
Runner-up: Nick Mueller, Campbellsport, WI., '55 Chevy Belair, RT: LBG, ET: N/A
Winner: Glen Bolz, Scottsdale, AZ., '66 Chevy Nova, RT: .648, ET: 4.670
Runner-up: Bye
Final:
Winner: Rob Parsons, RT: N/A, ET: N/A
Runner-up: Glen Bolz, Forfeit
Pro WelterWeight
Semi Finals:
Winner: Clay Forrester, Gilbert, AZ., '93 Mustang, RT: .521, ET: 4.904
Runner-up: Jeff Bomyea, Surprise, AZ., '67 Camaro, RT: .495, ET: 5.054
Winner: Josh Edwards, Phoenix, AZ., '72 Camaro, RT: .452, ET: 4.796
Runner-up: John Thompson, Gilbert, AZ., ''92 Mustang, RT: .467, ET: 4.930
Final:
Winner: Josh Edwards, RT: 467, ET: 4.812
Runner-up: Clay Forrester, RT: .524, ET: 4.879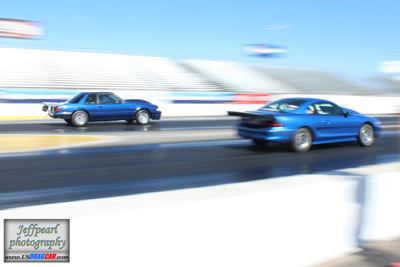 Pro BantamWeight
Semi Finals:
Winner: Don Bonahoom, Lake Havasu City, AZ., Fox-body Mustang, RT: .525, ET: 5.926
Runner-up: Preston Osborne, Queen Creek, AZ., Chevy Vega, RT: .499, ET: 6.538
Winner: Travis Wallace, Peoria, AZ., '95 Mustang, RT: .506, ET: 5.403
Runner-up: Justin Robbins, Glendale, AZ., Ford Fairmont, RT: .548, ET: 6.927
Final:
Winner: Travis Wallace, RT: 491, ET: 5.153
Runner-up: Don Bonahoom, RT: .489, ET: 5.211