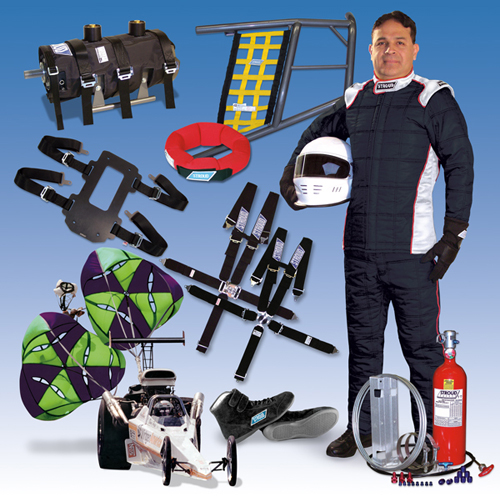 Stroud Safety started with one product, the drag chute, and now manufacturers over 150 products with new products introduced annually. Almost every type of racing all over the world uses Stroud Safety products.

Stroud Safety also supplies fire suppression systems and manufactures an extensive line of fire suits, personal restraint systems, window netting, and general racing and shop accessories. Custom design is a specialty at Stroud. With a wide range of color options and on-site design and engineering, most products can be configured to meet specific needs of the customer. Where applicable, all Stroud products are SFI certified with re-certification available for required intervals.

Located in Oklahoma City, the 24,000 square foot facility includes a 4,000 square foot show room. The production area is equipped with a wide range of industrial sewing machines, state-of-the-art digital cutting table, and fire bottle/suppression system assembly area. Efficient production and inventory control expedites the customer ordering experience with daily shipment of products. Customers may order direct from the factory or from U.S. and international dealers.

Contact Stroud Safety at 405-632-2022 for information and tech support, 800-554-4648 for orders, and products@stroudsafety.com. More product information available at www.stroudsafety.com and www.facebook.com/stroudsafety.
---