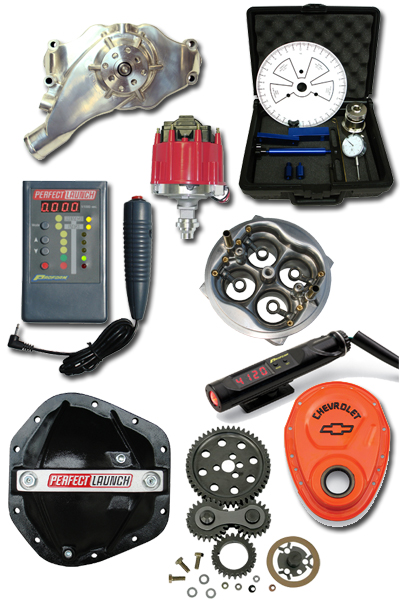 PROFORM® Parts
is a manufacturer of creative products from innovative concepts; Proform's goal is to provide their customers with high-quality products at affordable prices - thus delivering maximum value.
With more than 25 years in the high-performance aftermarket, the PROFORM® line was the first to popularize affordable and 100% new (not rebuilt) starters, alternators, stock harmonic balancers and distributors; the first to offer the 2-piece timing chain cover, the 2-stage in-line fuel filter, HEI distributor tune-up kits, and direct-replacement carburetor main bodies; the holder of the patent rights to elegant, corrosion resistant battery hold-down J-hooks, Slotlok(tm) wire dividers which require no screws, the no-mess oil drain plug, the fast one-piece drop-on valve cover hold-down, the easy-to-install harmonic balancer cover, the handy and universal No-Mess Funnel, the space saving Socket Assist tool, an adjustable billet timing tab with built in LED Timing Light, and design patents for the innovative Slant-Edge and 2-Piece valve cover designs. You'll also find a line of roller-tipped rocker arms offering you the widest selection of manufacturing processes (stamped steel, cast chrome moly, and machined extruded aluminum); super-slim and updated tachometers; a whole line of popular and easy-to-use engine builders' tools; and a broad line of GM Officially licensed chrome parts bearing the popular Chevrolet® and Bow Tie® and other divisional trademarks, and Ford® Racing®, Mustang®, and Cobra® engine dress-up parts (sold under the PROFORM® Factory Performance & trade Parts designation).
PROFORM® Parts are designed to provide you with the optimum combination of high-quality and affordable value. Their low prices are the result of experienced and efficient global manufacturing - not cutting corners. Their team of managers, product designers, engineers, and production personnel are here to meet your needs for high-quality, affordable parts.
Visit www.ProformParts.com to view their complete product line.