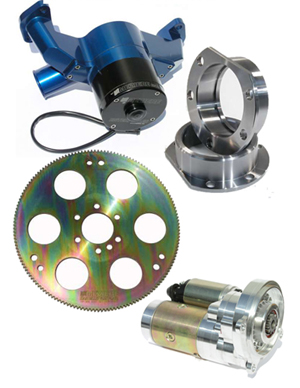 Meziere Enterprises is a family owned and operated company that specializes in cooling systems & accessories, flexplates & accessories, starters & accessories and chassis components & accessories.
For 27 years Meziere's goal has been to provide its customers with the very best products they can produce. That starts with designs aimed at solving problems common to the performance vehicles and their demanding parameters. It is executed by the company's wide array of machining and manufacturing capabilities and attention to detail. It is supported by outstanding tech and customer service.
Product development is a top priority for Meziere Enterprises. The company's line of cooling system products currently includes such items as electric high flow water pumps, cooling system accessories, thermostat necks, recovery tanks, expansion tanks and radiators. Their line of True Billet flexplates are the very best quality and are now available for a wide variety of domestic engine and transmission applications. Meziere also offers manufacturing of special flexplates. Starters include the True Start starters, and the company is rapidly developing a variety of starter applications as well.
For more information, visit Meziere Enterprises at www.Meziere.com.