Loose Rocker Racers Break in Incredible New VMP Surface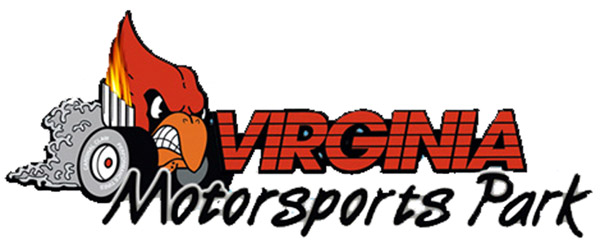 March 16 - 18, 2018, Dinwiddie, VA. - Tommy and Judy Franklin purchased Virginia Motorsports Park in Dinwiddie, Va. last fall. They have made not only massive investments in the facility, but also have put it through the paces already. The entire track has been replaced from burnout box through the quarter-mile with a world-class all-concrete surface, including new drainage. Track manager and track prep guru Allen Carpenter has been armed with more equipment to prep and maintain the surface.
Only a herculean effort allowed the grand reopening to take place on schedule. Two weeks before Loose Rocker Promotions' season-opening 9th Annual House of Payne Performance St. Patrick's Classic presented by Calvert Kettle Corn, March 15-18, 2018, they were still pouring concrete. On Monday of race week, the forms around the starting line barriers were taken down. The forecast proclaimed excessively cold temperatures for both morning and evening hours throughout the weekend, along with the possibility of showers on Saturday. It was among the most challenging circumstances they could have been dealt, yet the new Virginia Motorsports Park exceeded expectations.
Despite literally freezing temperatures, the smooth surface and expert track prep by Allen Carpenter allowed Friday's Summit FAT $5K Warmup to run to completion, with incredible performances. It was 29 degrees when Jeff Serra turned on the final round win light in Steve Witherow's 4.60 dragster, over Matthew Edwards' Camaro in Top E.T. Richard Alford, Jr. picked up his third Loose Rocker title in a triumphant return of his venerable Chevelle in Footbrake, stopping Liberty Classic winner Caleb Ellison in the finals.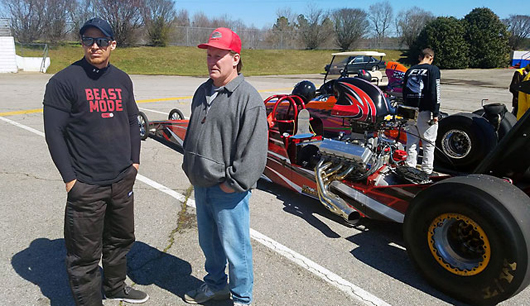 Due to the forecast, Saturday and Sunday's events were combined into an ATI $15K Main Event, designed to span two days. Even with a number of setbacks from mechanical failures, the quality of the track allowed for several more rounds to be put in the books than originally expected. Racing paused Saturday night with 16 or less cars remaining in each class, shortly before rain moved into the area.
After Sunday morning drying, scraping, re-prepping, and rising temperatures, the $15K resumed. Jason Weaver captured the Top E.T. victory over Jeff Serra, and former Colonial Classic winner Devin Dudley earned the biggest Big Check of his career in Footbrake. Chris Dixon had won the fourth round of Footbrake Saturday night, only to break the transmission in the pits. Fate was on his side as he was able to make the long round trip home to get his spare transmission, and get through several more rounds to score the runner-up.
With a beautiful sunny day and time on hand, Loose Rocker Promotions added a Bonus Abruzzi FAT $5K on Sunday. In Top E.T., Jeff Duck, who made it to the semis in the $15K, took out his teammate Jason Weaver in the semis of the $5K, and went on to win a double-breakout final over Daren Lotts. Lotts joined an elite club by laying down a perfect run earlier in the day. Devin Dudley made his second Footbrake final round appearance of the day, but Dennis Kessler claimed the $5K Big Check.
Virginia Motorsports Park established a high bar on its very first weekend, despite numerous challenges. Racers and fans alike can look forward to an incredible racing season!
FRIDAY SUMMIT FAT $5K WARMUP
TOP E.T.
WIN - Jeff Serra .017 4.638 (4.62) 145.22 mph
R/U - Matthew Edwards .033 6.379 (6.36) 102.39 mph
SEMIS: Shannon Justice, Tony Tull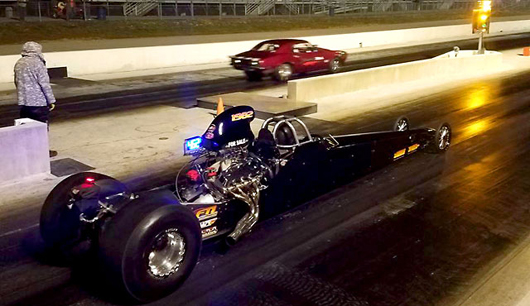 FOOTBRAKE
WIN - Richard Alford, Jr .014 6.221 (6.16) 93.86 mph
R/U - Caleb Ellison .035 6.142 (6.17) 102.72 mph
SEMIS: Dave Dissinger, Austin Welch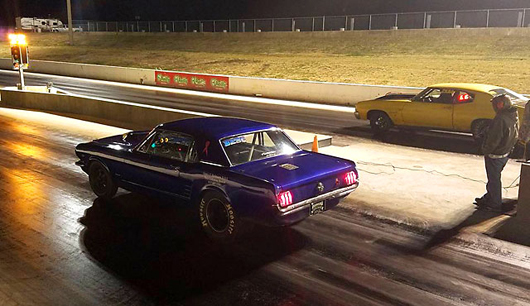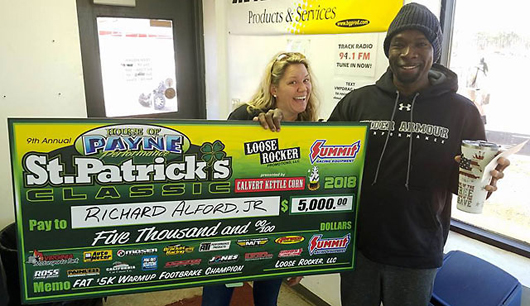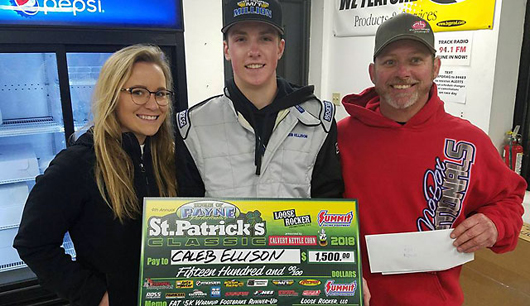 ---------------------------
SATURDAY-SUNDAY ATI $15K MAIN EVENT
TOP E.T.
WIN - Jason Weaver .009 4.425 (4.41)
R/U - Jeff Serra .013 4.749 (4.72)
SEMIS: Jeff Duck, Raider Campbell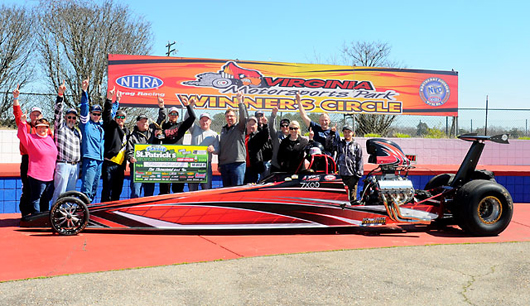 FOOTBRAKE
WIN - Devin Dudley .015 6.517 (6.50)
R/U - Chris Dixon .011 6.658 (6.66)
SEMIS: Todd Thoman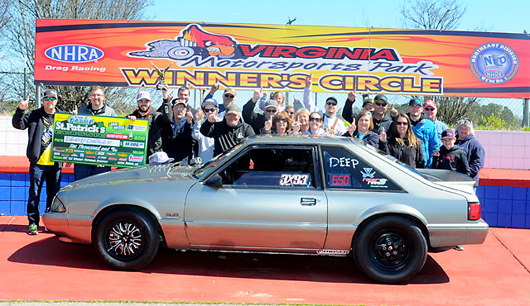 ---------------------------
SUNDAY ABRUZZI FAT $5K BONUS RACE
TOP E.T.
WIN - Jeff Duck .001 4.596 (4.60)
R/U - Daren Lotts .025 4.725 (4.75)
SEMIS: Jason Weaver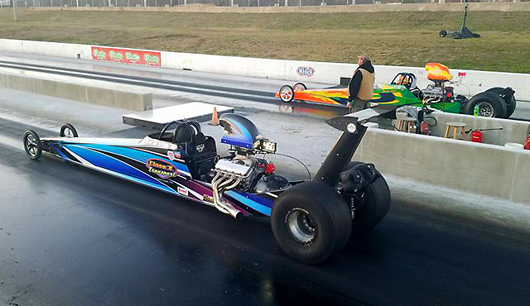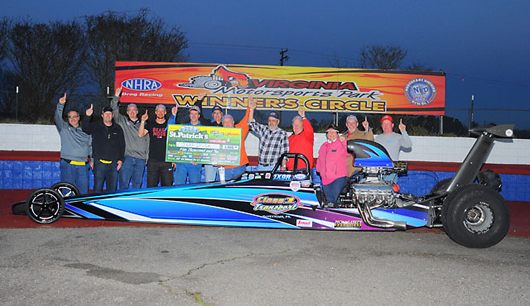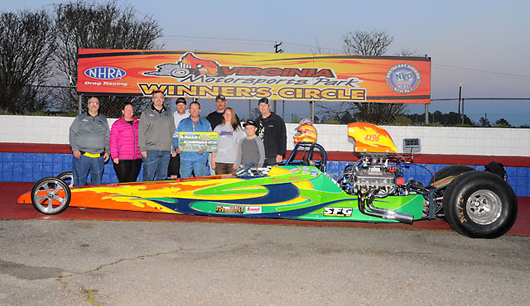 FOOTBRAKE
WIN - Dennis Kessler .008 5.640 (5.63)
R/U - Devin Dudley .011 6.564 (6.53)
SEMIS: Darin Sowers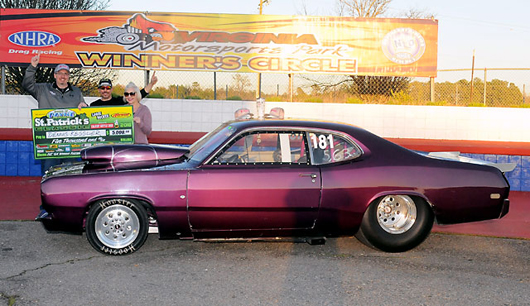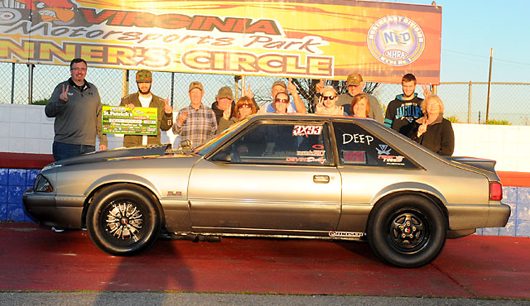 ---------------------------
California Car Cover Best Appearing Car: Chad Traylor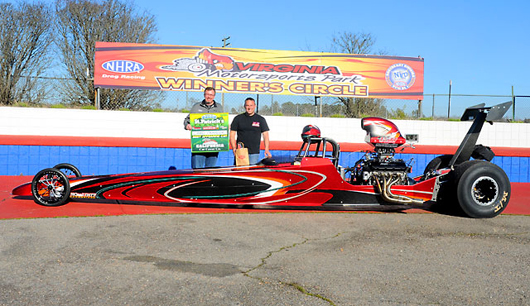 Gibbs Race Cars Best Engineered Car: Leon Tynes, Sr.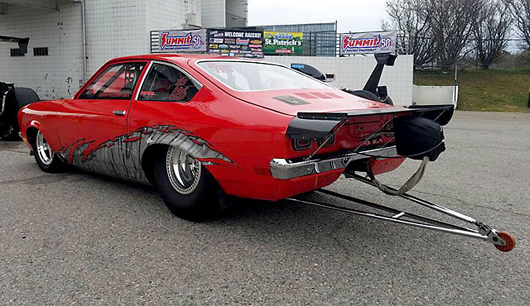 ---------------------------
MotorManiaTV presented by Summit Racing Equipment Viewership
Views: 45,903
Hours Streamed: 32:49:00
Countries Reached: 144
Text and photos: Michael Beard, Loose Rocker Promotions