Marion, TX., March 17th, 2018 -
San Antonio Raceway
hosted the
Outlaw Fuel Altered Association
and
Southwest Heritage Racing Association
version of Nitro Jam featuring the nitro-burning Fuel Altereds, Dragsters, Funny Cars, plus Nostalgia Super Stocks racing in their own timed categories. The Alkydigger Nostalgia Eliminator 1 (4.65) N.E. 2 (5.00) and N.E. 3 (5.50), all +/- .05, while OFAA are a heads up class.
Defending SHRA champions are Tommy Drozd (NE1), Bruce Dodson (NE2) Doug Morrison (NE3) and Ronnie Smith (Super Stock), Nick Poloson was the OFAA champion.
Also scheduled was a round of IHRA Summit Super Series bracket racing. After several earlier tries postponed by rain, some during the race or qualifying, the local bracket racers are itchy to get their first win of the season on the 1/8 mile, strip just outside of San Antonio.
The partly cloudy conditions kept the track temperatures down to near the ideal range, but twice during the day a shower would delay the action. The only major incident was Donny Massey, whose engine decided to disassemble itself at the 330' mark. Despite Massey wearing his diaper, parts and oil were slung all the way through the top end. Several timing blocks also suffered some injury, but cars and drivers were alright.
Outlaw Fuel Altered Association
After paring from qualifying, round 1 of 'Chicago Style' eliminations would take the top two quickest cars into the finals. Oddly enough it was a pair of cars that both ran 3.82 in eliminations pitting Jimmy Jones (Texas Tremor) and A. Morrow (Nitro Relapse) against one another in the finals. Jones clicked off another 3.80 run to take the win over Morrow at 4.06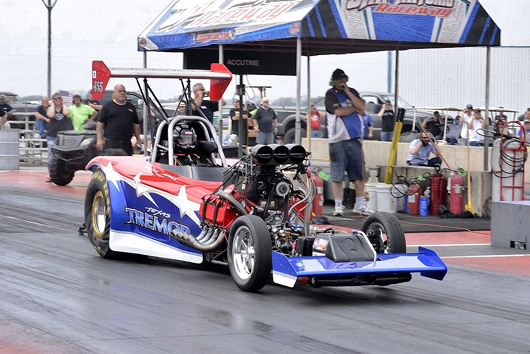 Alkydigger Nostagia Eliminator 1
The NE1 final was a matchup between the altered of 2017 SHRA champ, Drozd and the slingshot dragster of Keith Zimmerer. Zimmerer had a slight edge at the start but Drozd was able to run him down, without breaking out, to secure the win.. Tommy Drozd (.051) 4.667 @ 140.93 defeats Keith Zimmerer (.030) 4.724 @ 144.32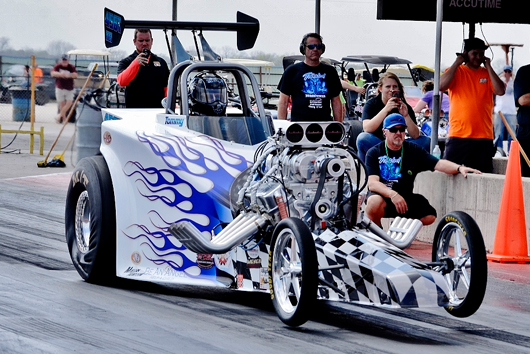 Alkydigger Nostalgia Eliminator 2
It was Jason Scott, in his Altered and Jeff Cameron, in the Dooley & Sons Hot Rod Shop, Austin Panel Truck paired up for the NE2 finals. Cameron put a .003 light on Scott and that was the difference as Scott outran Cameron, but lost on the holeshot. Jeff Cameron (.003) 5.143 @ 133.85 defeats Jason Scott (.074) 5.096 @ 132.24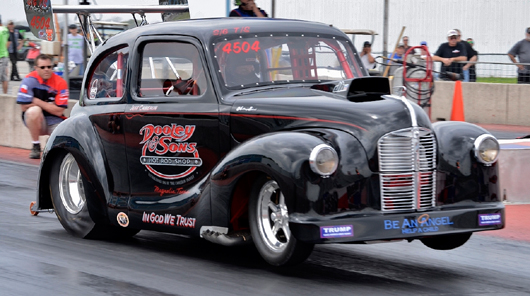 Alkydigger Nostalgia Eliminator 3
The NE3 finals saw a local racer going head to head with a SHRA regular. Former SAR track Champion Ryan McDonnell, in his San Antonio Hydro Graphix, 23 Ford Altered left on the defending champion Morrison, who ran the index number, to get the victory by the holeshot. Ryan McDonnell (.081) 5.553 @ 115.92 defeats Doug Morrison (.157) 5.502 @ 122.58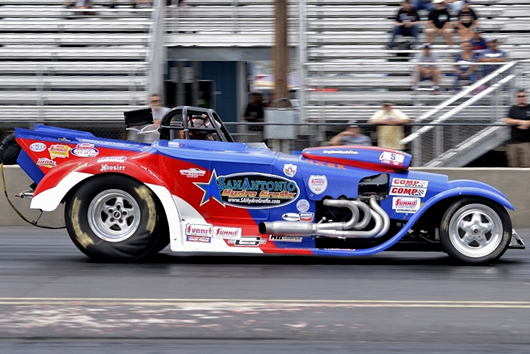 Nostalgia Super Stocks
The Super Stock finals was a Chevy vs. Dodge match up with Doug Watkins in his Chevelle against Vic Corlett in his Dodge Dart. Watkins was wheels up first on green then was only a bit his dial in to take the victory over Corlett. Doug Watkins (6.41) 6.480 @ 91.71 defeats Vic Corlett (6.73) 6.975 @ 98.88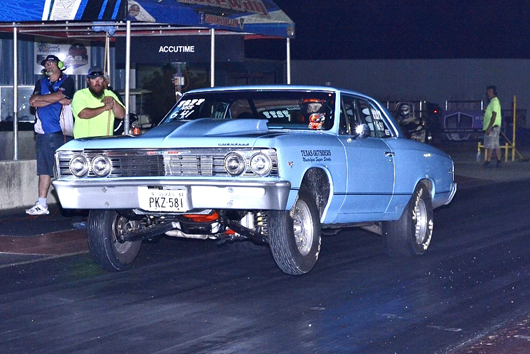 Summit Super Series bracket racing
Electronics (Box)
In the Electronics (Box) finals it was Mike Atkinson (Cibolo) going head to head with Brian Wenske (Cedar Creek). Both left with nearly identical reaction times, but it was Atkinson in his 1990 Dodge Daytona running his number to take home the hardware over Wenske in his Altered Roadster. Mike Atkinson (5.47) 5.477 @ 124.69 defeats Brian Wenske (5.53) 5.583 @ 122.22. Atkinson took out Jeremy Wenske, Matt Esper, Jeff Rabedeau, Greg Meuth and Rick Shafer. B. Wenske trailered Brandon Bass, Kenneth Hillin, D. Smith, Wes Bendele and got a bye into the finals.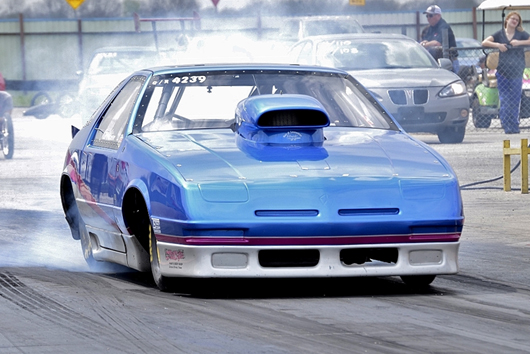 Footbrake (No-box)
The Footbrake (No-box) class never made it to the finals and was a first for me. Five drivers, either due to lateness of the race or four men afraid to race a woman (LOL), opted to split everything and not even run. The quintet co-winners were Laurie Vontour (San Antonio), Mac Garcia (San Antonio), Gene Herbold (Seguin), Gabriel Hernandez (San Antonio) and Mad Mike (Pleasanton) on his motorcycle.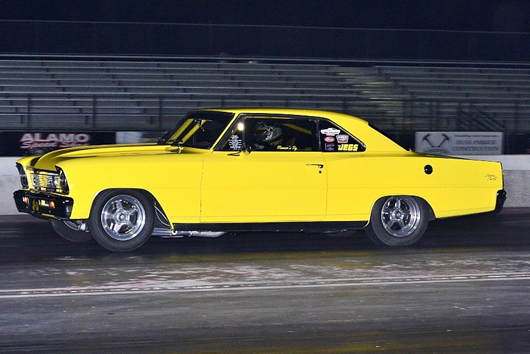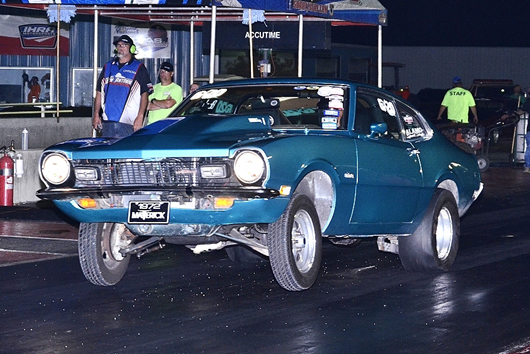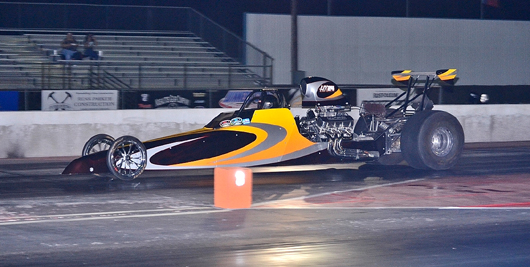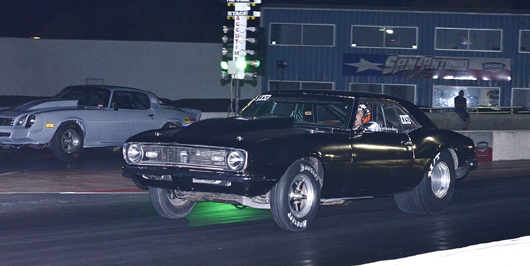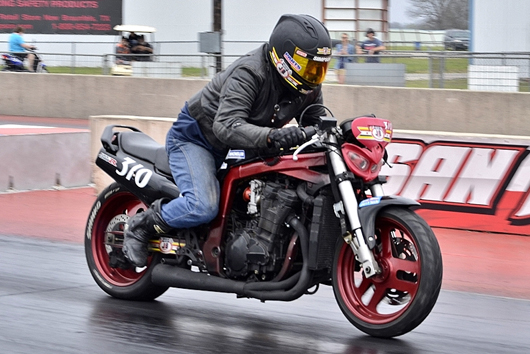 Street
The Street final saw experience against youth as Paul Gaspard in his G&G Performance, Dodge Dart went to battle with teenager, Shelby Spencer in her GMC Pick-up. Both were slow on the tree but Gaspard (Marion) got the slight advantage and ran his number while Spencer (New Braunfels) broke out trying to run him down. Paul Gaspard (7.25) 7.257 @ 95.95 defeats Shelby Spencer (10.03) 10.025 @ 74.70. Gaspard bested Rhett Floyd, Brandon Spain and had a round 1 bye. Spencer got a round 3 bye and beat V. Hernandez and Floyd.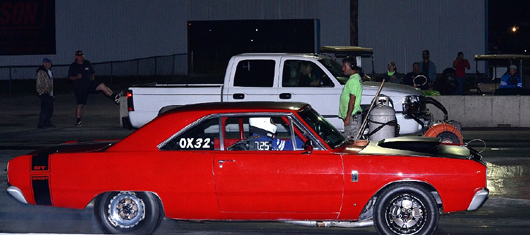 Jr. Dragster
It was an all-girl final for the Jr. Dragsters pitting Jessika Jackson (Kyle) with Audrey Wenske (Bacliff) in a round 1 rematch that was taken by Jackson. Wenske, in her Halfscale Chassis pretty much got the win off the tree putting .800th in the bank on Jackson's 2001 Hayden Chassis. Wenske was closer on her number to secure the victory. Audrey Wenske (8.90) 8.962 @ 71.21 defeats Jessika Jackson (8.59) 8.780 @ 77.03 Wenske beats Slate Crisp in round 1 with Jackson getting by Carlos DeLeon.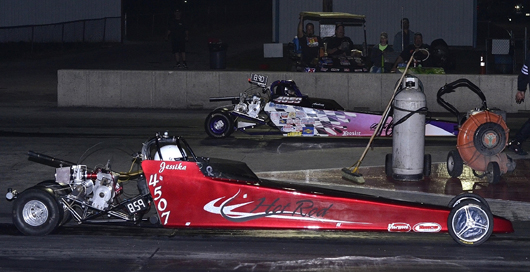 Text and photos: J.M. Hallas