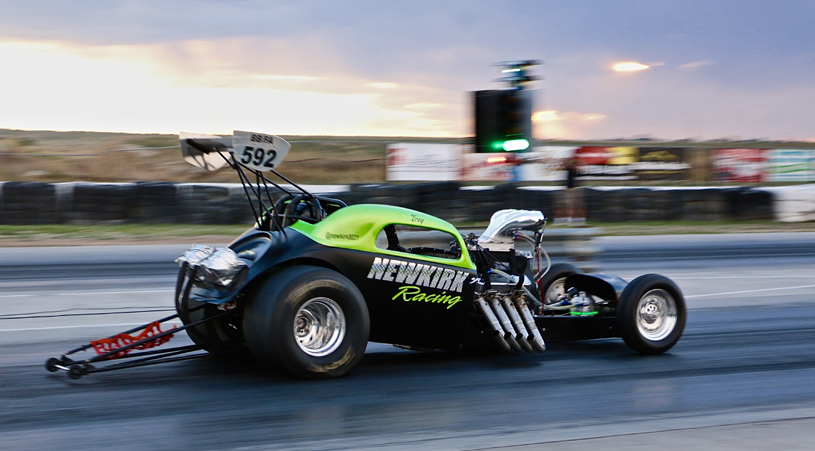 Heading into the final stretch of the 2017 racing season, Rocky Mountain Superchargers (RMS) drivers will have a lot of Kansas – and a bit of Montana and Missouri – on their minds.
Although RMS, founded and shepherded by Ed Arcuri, III, and run under the watchful eye of Competition Director Ron Burge, has always been based in Colorado, its racers also come from 10 other states. Other than the Centennial State, they hail mostly from Kansas, North Dakota, Nebraska and Texas as well.
As they approach the last group of races, the RMS competitors will find themselves at two Sunflower State tracks in coming weeks, then will top off the season way up north in the Big Country before a hiatus leading right into a late date in the Show Me State.
Next up, on July 22, the RMS comes back to Kansas International Dragway at Maize, KS., just north of Wichita, for the second consecutive year in the Summer Nationals, with a special Melling Race Night event. "Our people had a good racing experience there last summer, and were impressed with the overall setup," said Arcuri, whose racers are vying in their eighth season. "This is a big, eight-car event for our Pro Supercharged/All Star racers and a match race opportunity for Top Supercharged Thunder. Wichita is the largest city in Kansas and a great place for us to show what we can do."
Aug. 5 marks a return to the legendary SRCA (Sunflower Rod and Custom Association) Dragstrip in Great Bend, Kan., site of the first National Hot Rod Association Nationals in 1955 and of subsequent major American Hot Rod Association events. The venerable strip was selected by RMS drivers as Track of the Year in 2016. There will be special awards from Richmond Gear. Both the Melling and Richmond special awards were arranged by Contingency Connection.
"We're always excited to get back to Great Bend and SRCA," Arcuri said. "The site is a little off the beaten path, but folks are happy to be up-close and personal at a track that has quite a storied history. Those of us who have raced there continue to be impressed with the track's management team and the welcome we get in that great community."
At Great Bend, Top Supercharged and Pro Supercharged racers will earn points for what the Boss termed "our ever-richer championship.
"We're working with Sunflower Broadcasting, out of Hays, Kan., on some interesting and exciting promotional tie-ins that the public will enjoy," he added. That effort is bolstered by the presence of AMP Graphics, co-founded by Tony Arcuri, Ed's son and one of the headline RMS drivers in his blazing-red "Firefighter" machine. AMP handles the group's advertising.
Added late to the 2017 racing calendar will be The Hot Rod Reunion, presented by O'Reilly Auto Parts, and headlined by Dragtime News, in the Oct. 15 Dragtime News Top Supercharged Funny Car Invitational at MoKan Dragway in Asbury, Mo., just north of where Missouri, Kansas and Oklahoma intersect.
Racers from California and Nevada competed on June 24 in the last race of the year on the RMS "home" track, Pueblo (Colo.) Motorsports Park. While Arcuri thought "it would be unlikely that a California racer will travel to Great Bend … but the distance from the West Coast to Pueblo shows that our program is attracting interest beyond the 11 states from which our competitors have already come," he said.
Before MoKan was added to the agenda, the 2017 season would have concluded on Aug. 18 on the Yellowstone Dragstrip at Acton, Mont., outside of Billings. The Funny Car 500 will feature eight funny cars in a Chicago Eliminator supported by what an excited Ed Arcuri described as "our fattest payout ever, and we will rock that place!
"I know our drivers from North Dakota will relish the idea of competing under the RMS banner at a track closer to home but, you know, the guys from farther south – Colorado, Kansas and Texas – also look forward to the opportunity. That's what good competition will do for you, regardless of where you are or where you come from," he said.
RMS contestants fired off their 2017 season at Pueblo Motorsports Park on May 6 in Thunder in the Rockies, presented by Competition Products, which is a prime sponsor all summer long. "It brought out top-flight racing in the sportsman bracket eliminators as well as a full field for the Superchargers," the elder Arcuri enthused. Tom "Fireball" Furches, 2016 Top Supercharged Thunder Champion, won his final with a 6.75-second elapsed time blast at 201.8 miles per hour. The Pro Supercharged/All Star winner was Josh Herman, a local Pueblo racer, who has been victorious in many past contests. Herman made it to the final via the break rule when Low Qualifier Steve Stracener encountered engine problems in his "Last Starfighter" Dodge Challenger.
On May 28, it was more of an annual fun outing than dog-eat-dog competition in the far northeastern corner of Colorado on the old runway of a former rural airfield at Julesburg for another of the Lanier's Speed Shop Invitational competition presented by Clear Vue Concepts. The Colorado Fuel and Gas Championships were presented by Howard's Cams at Pueblo on June 3, with RMS Top Supercharged and Pro Supercharged eliminators in the spotlight. Texan Rodney Ferguson and Colorado's Furches were the No. 1 drivers that day in each category.
"Pueblo Motorsports Park put in some exciting changes to their format for this race that gave it that 'nostalgia' feel evoked by the Fuel and Gas Championships title," Arcuri explained. The historic High Altitude Nationals returned to Pueblo on June 24. There were several below-index ETs after Furches, with another 6.75, including Doug Schneider at 6.749; Tony Arcuri, 6.875; Trey Newkirk, 7.286; Johnnie O'Connell of Reminiscin Racing, 7.377; Ferguson, 7.441; and Nissen, 7.447.
"We brought this event back to its home in Colorado a few years ago and are proud to keep the tradition alive," the RMS founder/leader said. "We got some good racer support that we had hoped for, so the fans got the racing they expected."
For more information about The Rocky Mountain Superchargers, visit www.rockymountainsuperchargers.com.
Article by Phil Ross, photo by David Liddle.