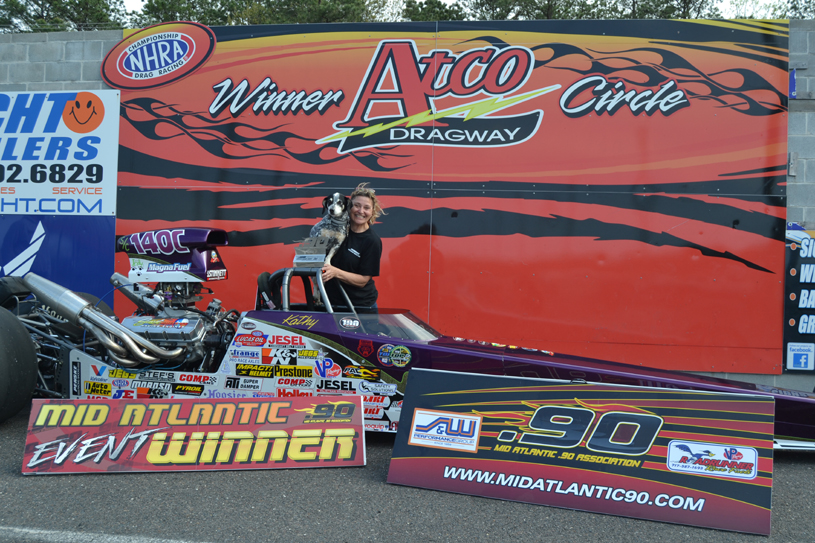 Atco, NJ - The Mid Atlantic .90 Association kicked off its 2017 season with the 4th Annual Northeast Shootout at Atco Dragway on Saturday & Sunday, April 29 & 30. Drivers from all over the Northeast converged on the South Jersey facility to kick off the brand new season. The event was held on a somber note as President Rob Keister lost his Mother earlier in the week after she fought a long battle with cancer.
On Saturday, Parlin, NJ Super Comp standout Chris DePasquale took home his first Mid Atlantic .90 Trophy in his "Addicted" Undercover Dragster with a victory over Steve Everett Sr. DePasquale left little room for Everett in the final round with a .005 light and almost perfect 8.903 to take home the victory. In Super Gas, Hank Smith from Leesport, PA (photo below) took his Ken's Kustom Camaro to victory over Joe Eckel out of Rockaway, NJ. Smith took the advantage at the tree (.002 to .026) and parlayed that into a 9.923 to 9.920 hole shot victory. Rounding out Saturday's action, it was a battle of old rivals as the only two Super Street Champs the series has seen squared off in the finals. In the end Keith Mayers out of Ellendale, De took to victory over Gilbertsville, PA's Jimmy Stack when both drivers recorded exact 10.892 E.T.'s but, Mayers won it on a baby hole shot.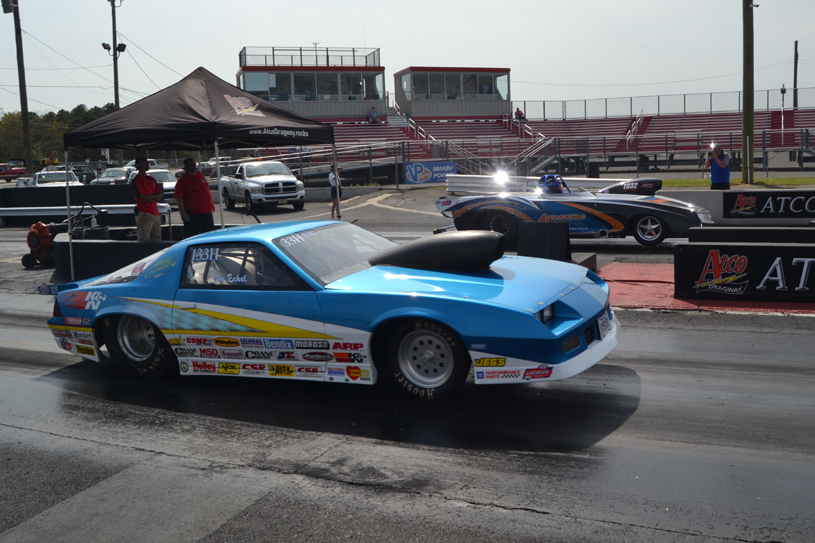 On Sunday, the series concluded its 2nd race of the weekend with three new winners. In Super Gas, two-time MASGA Champion Tom Goldman took his 1958 Corvette to victory over Saturday's winner Hank Smith when Smith lit the red-light in the final. In Super Comp, Kathy Smulligan out of Coopersburg, PA (top photo) gave Steve Everett Sr. his second runner-up of the weekend with a 8.894 to 8.890 result and her first MASCA victory since 2010 at Maple Grove. In Super Street Marty Ganjoin (photo below) scored his first victory of the season in his 1968 Camaro after Jimmy Stack fouled by .001 in his 1970 Dodge. Ganjoin legged it out to a 10.93 @ 134mph for the victory. The series will take the month of May off before returning to action at Cecil County Dragway in Rising Sun, Md on Father's Day Weekend of June 17 & 18th.
For more information visit midatlantic90.com. (text & photos: Rob Keister)