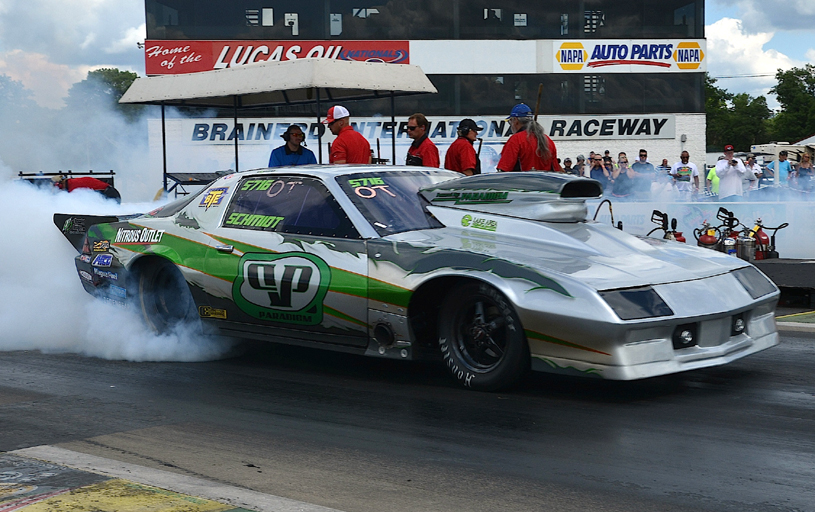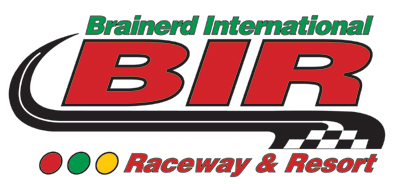 Brianerd, MN - Greg Schmidt (pictured above) will be the first to tell you that when it comes to drag racing in the Muscle Car Series, every point counts. After the three-race series concluded Labor Day weekend, only one point separated the top three drivers in the Outlaw Class. Fortunately for Schmidt, Bubba Romanyshyn and defending champ Warren Peterson came up one point short, and tied for second."That was a close one," said Schmidt, who finished off the season by winning the GSTA Muscle Car Shootout to solidify his series title. He was runner up at the PleasureLand RV Show & Go after winning that event in 2015.
"It was kind of cool to win the (Muscle Car Shootout) and keep the championship in Brainerd." Schmidt and his 1989 Camaro ran about 7.5 seconds at 180 mph all season. He didn't have the fastest car in the class so he relied on consistency, good reaction times and a little luck. He plans to return next year to defend his title. "We'll make a couple small changes to the car but for the most part, we'll have the exact same car next year," he said. Schmidt was among more than 300 drivers who competed in the eight annual Muscle Car Series, which included the Street Car Showdown Memorial Day weekend, the Show & Go on the Fourth of July weekend and the Muscle Car Shootout on Labor Day weekend. The Outlaw Class was one of seven heads-up classes, where both drivers start at the same time, with the winner being the first car to the finish line.
Schmidt and the rest of the series champs will be honored Feb. 25 at BIR's annual Racer Banquet at Cragun's Resort. There was only one repeat series champion last season, Dan Gefre, who won the True Street Class for the second year in a row. Scott Davich won the series championship in Strip Eliminator 3 this year after winning the Strip Eliminator 2 title last year.
"I'm pretty happy about (the championship)," Gefre said. "Last year I was in every final but everyone stepped it up this year. You had to run your best every round. The new guys are running faster than I've ever seen before." Driving a 1983 Malibu Wagon, Gefre had some good news for the other racers in True Street: He's changing cars and moving to the 660 Street Outlaw class next season.
One of the first-time series champions was Ray Fuchs (pictured below) and his mean-looking 1953 Studebaker. He swept the Pro Outlaw Class, knocking off two-time defending champ Rick Schmidt, who finished second. Fuchs won all three races while posting sizzling times (6.380 seconds) and speeds (220 mph).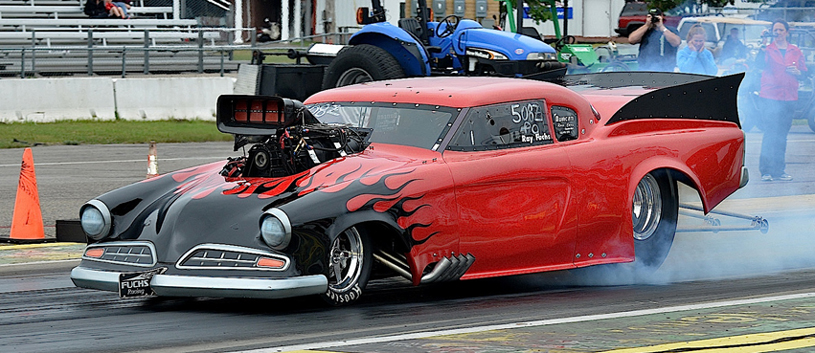 Fuchs rebounded well after a disappointing 2015 season that was plagued with car problems, which landed him in 11th place in the standings. "We had a lot of breakage last year but we got everything under control so we can push (the car) a little harder," he said. "The car is set up pretty well now. We always have plenty of power. It's better to just beat the other car by a couple tenths (of a second) rather than beat them by a mile because then things can start going wrong."
A pair of brothers came from Superior, Wis., this year to win the King Street and Real Street Unlimited classes. Chris and Dennis Orr are both first-time series champs. Dennis swept the Real Street Unlimited Class while Chris won the King Street Class with win, a runner-up finish and a quarterfinal loss in the Muscle Car Shootout. "We had a really good year equipment-wise," Chris said. "We were fast enough to win but not so overpowered that stuff was breaking."
Chris Orr's '67 Pontiac Firebird was consistently around 7.7 seconds at about 180 mph. He was up against 31 other King Street drivers, so consistency and good reaction times were the name of the game, he said. His brother agreed, even though Real Street Unlimited is a smaller class with 12 drivers. The competition is still tough even though Dennis made it look easy. His '70 Camaro was running 7.9 seconds at 180 mph.
"It wasn't an ideal season but we're getting it figured out," he said. "We switched fuels during the qualifying rounds (of the Muscle Car Shootout) and that seemed to work pretty good. We picked up 2 mph and 2/10ths of a second." Dennis plans to be back next year to defend his title. "We'll add a bigger turbocharger to it next year and try to squeeze a couple more tenths (of a second) out of it."
Rob Wilczek is all too familiar with disappointment. He came into this season with a chip on his shoulder from last year after loosing the 2015 Real Street Natural title by only one point to Bill Meyer despite qualifying No. 1 in all three races. He admits that he thought a lot about that finish over the off season. "(Coming into this season) I wanted to win races but I really wanted the championship," he said. He did both. He only qualified first once but he ended up in the Winner's Circle all three times with his '69 Mustang that was running at 9.1 seconds and 145 mph.
Brian Carpenter's been racing at BIR for 20 years but showed up this year with a 2003 Mustang car and proceeded to win the 660 Street Outlaw championship. For the 660 class, BIR shortens the track to an eighth mile, so the cars are very quick. Carpenter said the new car required a lot of learning and changes but was still able to win two of the races and finish as runner up in the final race. Below are the top three finishers in each class.
Pro Outlaw
1 Ray Fuchs of Bowman, N.D.
2 Rick Schmidt of Dickinson, N.D.
3 Joseph Wilczek of Little Falls
Outlaw
1 Greg Schmidt of Baxter
2 Bubba Romanyshyn of Belfield, N.D.
2 Warren Peterson of Duluth
King Street
1 Chris Orr of Superior, Wis.
2 Jake Waste of Loretto
3 Brian Mahnke of Proctor
Real Street Unlimited
1 Dennis Orr of Superior, Wis.
2 Jesse Nelson of Mountain Iron
3 Duane Godbout of Cloquet
Real Street Natural
1 Rob Wilczek of Little Falls
2 Bob Wallin of Superior, Wis.
3 Bill Meyer of Andover
True Street
1 Dan Gefre of Coon Rapids
2 Jason Nelson of Champlin
3 Zach Novak of Sauk Rapids
660 Outlaw Street
1 Brian Carpenter of Forest Lake
2 David Senderhauf Jr. of Zimmerman
3 Dan Boyko of Winnipeg, Manitoba
Strip Eliminator 1
1 Scott Hielscher of Otsego
2 Kevin Sand of Cambridge
3 Jeremy Brostrom of Brooklyn Park
Strip Eliminator 2
1 Gary Olson of Sartell
2 Lonnie Ellenson of Park Rapids
3 Wendy Lane of Brainerd
Strip Eliminator 3
1 Scott Davich of Pequot Lakes
2 Heather LaClare of Zimmerman
3 Cameron Novak of Rice
Truck Eliminator
1 Bob Peterson of Roseville
2 Taylor Tesar of Medina
3 Corey Winkelman of Clear Lake
Manual Transmission
1 Keith Sand of Cambridge
2 Mike Hed of Menahga
3 Jeremy Reitmeier of Crookston
Index Class Champion
1 Jesse Haugesag of Prior Lake
2 Gary Olson of Sartell
3 Jeff Purdham of St. Michael