If you race in the Northeast, you might be familiar with my 1964 Dodge Polara, the Dragtime Dodge. When I purchased the Dodge in 1995, it was a daily driver with full interior and steel everything, and was good for low-13-second ETs. I began racing at Long Island Motorsports Park in Westhampton, NY, and took three consecutive Pro Eliminator track championships in 1998, 1999, and 2000.
In 2001 I began racing seriously in New Jersey, at Atco Raceway, Old Bridge Township Raceway Park, and Island Dragway. It was in New Jersey that I became aware of just how good bracket racers could be. I made many great friends, and became deeply involved in the bracket racing community.
In addition to being a dedicated racer, what you might not know is that I hold an MBA in Marketing and have been in the magazine publishing industry for over twenty years, specializing in advertising sales and marketing. Therefore, as a means of furthering our sport and building the racing community, it seemed natural to start a publication focused on us. Thus, I launched my newspaper The Dragtime News: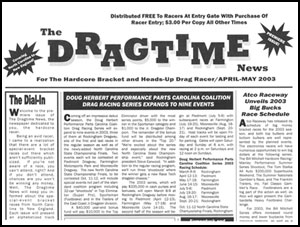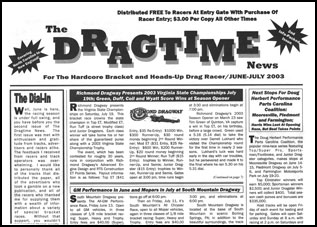 The purpose of my paper was simple: to provide hardcore bracket racers with information about upcoming special bracket races, all in a well-laid-out, fun-to-read, and easy-to-navigate format. My appreciation goes out to James Young, Jr. of JYR Motorsports, who assisted with some of the issues. Whether the event was a big-dollar Super Pro race at Atco, or a Mopar or Ford event at Virginia Motorsports Park, or a blower race at Pittsburgh Raceway Park, The Dragtime News was a vehicle to help spread the word about these events.
I published The Dragtime News until 2003, but to this day racers still mention it to me. I've been asked repeatedly if I'd ever bring it back.
With The Dragtime News.com, I have.
This website will continue in the tradition of my newspaper. It will focus on the news and information that's important to us, the serious bracket and sportsman racer. Unlike some other sites, it will not have a myriad of categories, menus, sub-menus, and jump-tos. Just a few pages, that's it:
HOME: this is where you'll find the newest information about track news and special bracket events.
PRODUCTS: this page will focus on the products that bracket racers use and need, so not just race parts, but the other things that go with the program like trailers, generators, awnings, etc.
RACER EXCHANGE DIRECTORY: this page is a low-cost listing page for racers to advertise their non-performance-related trade. For example, if you're a racer and a roofer/dentist/accountant/electrician/physical therapist/etc., you can list yourself here. Let's build this into a network of racers all supporting one another whenever possible.
SPEED SHOPS: another low-cost listing page, but for speed and performance shops. One of my convictions is to support local businesses whenever possible, and this includes local speed shops. Your local shop can often be more competitive on price than you might think, and you'll get personal service to boot. Please find a local speed shop here, and give them the first chance at your business whenever you can.
TRACK INFO & WEEKEND SCHEDULES: This is the place to be to see what the tracks have scheduled for the coming weekend. Includes LIVE national Doppler radar as well as live mini-Dopplers for each state we cover.
ARTICLE ARCHIVES: the home page was getting loaded up with info so I moved the earlier articles here. If you want to refer back to something you saw on the site earlier in the season, you can find it on the Archives page.
READERS' RIDES: got some cool photos of your car? Send in high-res JPEGs (300 dpi) and they'll go here.
ABOUT US: You've read the page this far, so I'll assume you've already got this one covered.
I hope you find The Dragtime News.com to be a useful component of your racing program. Best of luck in your season.
For information on advertising on The Dragtime News.com, please send an email to advertising@dragtimenews.com with your inquiry.